Sweet is a fun-filled magazine for girls aged 7-11! It's bursting with lots to make and do, plus friendship fun, shopping, quizzes, celebs and the cutest characters! Every issue comes with the most amazing free gifts, too!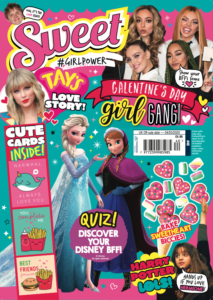 Have you got something you'd love to tell us about? Maybe you've got a fun story you want tell us about? Or, maybe you'd just like to tell us what you'd like to see in your favourite magazine!
Whatever it is, we just can't wait to hear from you! Just click the email link below and send us your details with an email message!
Please email us at  sweet@dcthomson.co.uk
Sweet Magazine
DC Thomson
2 Albert Square
Dundee
DD1 1DD